Want more Facebook business page followers?
Facebook business page followers are becoming increasingly more difficult for companies to gain organically. This is thanks to Facebook's continuous push to drive their advertising agenda. However, it is possible to grow your page followers organically. We'll show you an example of a KARMA jack client that followed this strategy and the type of success they had at the end of this article.
What is a Facebook business page follower?
A Facebook follower is someone who has opted to LIKE your business page. Essentially, they are opting to receive posts from your business on their feed.
Why is it important to have Facebook business page followers?
When someone likes or follows your page, your post on Facebook has a chance to show up on their feed. Your posts have the potential to be visible on your page follower's feed, and it has the potential to reach their Facebook friends. This gives your brand REACH. 
Is it harder to get Facebook business page followers in 2020?
Yes. Many things have happened which has shifted the dynamic of Facebook page followers.
Ultimately, Facebook wants your money.

They want you to advertise. As a result, it's more difficult to have a viral reach than in 2016 or earlier.

Consumers are wise.

Most people know when they like your page, it's possible they will get spammed with sales pitches and reasons why they should hire your services. People don't like this and now shy away from liking ANY business page. (Hint: this is why your business should post meaningful, engaging content consistently on social media platforms)
What happens when I post something on my Facebook Business Page?
How can I increase followers for my business on Facebook organically?
Here is our absolute favorite way to increase Facebook followers for your business page organically.
First, you need to post engaging content on your Facebook page that prompts your followers to LIKE it. Then, you can invite a person to LIKE your page when they LIKE your post. Pretty cool right!? As long as they are not currently a follower to your business page, you can invite them!
Here's how to invite someone to like your business page when they like a post:
3. Your request will show up in their notifications and they have the option to LIKE your business page.
4. Now go back to all your old posts and see who liked your page. Send them an invite if they haven't already like your page.
How can Facebook business page LIKES help my company grow?
Here's an example of how we helped one of our clients grow over 1000 organic Facebook page likes by using this method!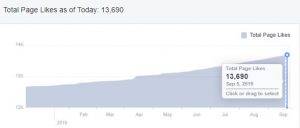 And check out their increase in engagement by increasing their audience!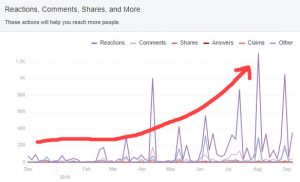 How many times should my business post on Facebook?
Post meaningful content 3-6 times a week at different times to catch different feeds. But it's much more just posting something. Facebook is a community. You need to engage in the community or your posts will be meaningless.
Mark Zuckerberg wrote, "Pages making posts that people generally don't react to or comment on could see the biggest decreases in distribution. Pages whose posts prompt conversations between friends will see less of an effect."
While you're at it, reply back when folks make a comment on your post. Even if it's a simple "thank you!". This shows you are engaged and increases the opportunity for your post to be viewed by more people.
What if my Facebook business page doesn't have any engagement, should I still continue to post content?
YES! YES! YES!
Our society is conditioned to do their research before signing up for services or purchasing products. Most of today's consumers will check out your reviews on Google as well as check out your social media pages. You will want to show you are an expert in your field and care about putting your brand out there, even if few people appear to be engaging in your content.
Many of our clients are thrilled when they hear from customers who said they checked out their Facebook page and liked what they saw. It is a part of the buying process and strong content is a major influence in the purchasing behaviors of many.
Do you feel frustrated because you can't seem to get to your social media consistently? Or, do you feel overwhelmed at the thought of social media?
You are not alone. In fact, most companies struggle to know what to do when it comes to social media and Facebook strategies.
We often take over for companies who are fed up with their current internet marketing efforts. Usually, these companies have unintentionally BLOWN tens of thousands of dollars on social media advertising and content managers who do the bare minimum.
We're proud to say we have helped companies just like yours get a massive amount of growth with their online marketing efforts by focusing the attention on converting traffic into leads.
Schedule a call with us today. We PROMISE, there are no hard sales pitches with our team. We only want to work with companies who want to see the same type of successes our clients continue to see.